Put sustainability into action
Now it's your turn. You're empowered to make sustainable living a part of your everyday life. From great community resources to fun activities to get the entire family involved, the sustainable living festival is really all about you. Let's (virtually) rally together as a community to make the future bright.
Kid Activities:
Sustainability BINGO
Complete 5 activities in a row to get a BINGO! Complete them all for a green-out!
Kid Activities:
WindE Coloring Sheet
Did you know that LES gets wind energy from more than 300 wind turbines? This is enough energy to power about 75,000 homes!
Kid Activities:
Wind Can Do Work
What is the maximum load that can be lifted all of the way to the top of the windmill shaft?
Kid Activities:
LES Solar Facility Time-lapse Video
The installation, located at Northwest 75th and West Holdrege streets, uses 15,333 solar panels to produce enough energy to power 900 typical homes in Lincoln.
Kid Activities:
Solar Oven S'mores
Harness the sun's energy! Can you cook a s'more without a fire or electricity?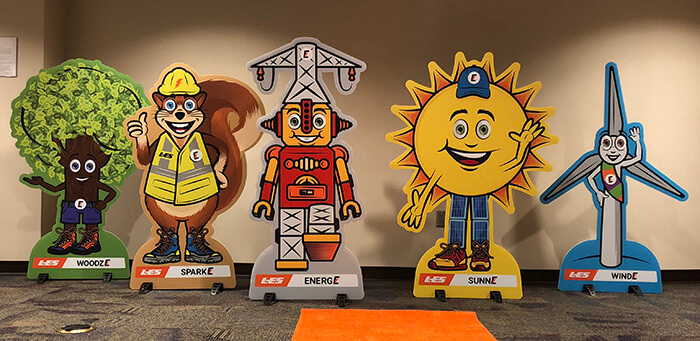 Hey, kids! Have you met the LES ENERGIZERS? They're here to help you be in-the-know when it comes to electricity and other types of energy!
SparkE wants you to be safe around electricity and to give you tips on how to be prepared in case your power goes out.
SunnE and WindE are eager to fill you in on renewable energy such as solar and wind.
WoodzE wants to remind you and your family to plant trees and shrubs in places that are safe distances from power lines.
EnergE wants to share with you the journey electricity takes from power lines to your home, so you have lights and other stuff when you flip on a switch.