JULY 24: LES'

EV Ride + Drive
SEE WHAT THE EV BUZZ IS ABOUT
Thinking about upgrading your ride to an electric vehicle? Interested in the future of transportation in our community? Don't miss LES' EV Ride + Drive! Get the details below, and be sure to preregister for your test drive time slot.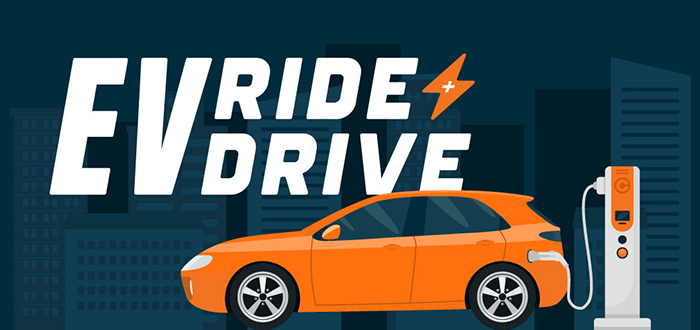 EV-rything you want to know about EVs
Nebraska's first EV Ride + Drive event, presented by Lincoln Electric System with support from the Nebraska Environmental Trust, is set to cap off LES' Sustainable Living Week on July 24, 10 a.m.-3 p.m. at Lincoln's Haymarket Park.
And be sure to visit our Sustainability Living Week website, LES.com/GoGreen, July 19-24 for sustainable living tips, videos and activities from LES and our community partners!
A full day for EV education!
Take an EV for a spin and learn about purchasing and owning a plug-in vehicle from local EV owners and dealers. Grab some food from local food trucks while watching the kids run around the play area, and check out booths from our community partners. All test drivers will receive a $5 food voucher to redeem at one of the event food trucks. Electric buses from the City's StarTran fleet will shuttle visitors from the Haymarket to Haymarket Park during the event.
Our lineup
Opening remarks from local leaders.
Presentation by Don Cox – EVerything about EVs: 11 a.m., 12:30 p.m., 2 p.m.
EV test drives*.
Community partner booths.
High-voltage demos.
More!
*Note: You must be 21 years of age or older and present a valid driver's license to participate in the test drive. Car seats are not allowed.
LES passenger fleet (hybrids, plug-in hybrids, all-electric)
Median EV range for 2020 model year